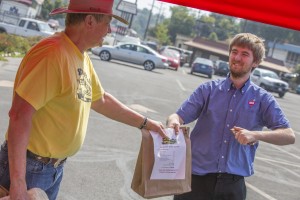 Here are some of the many projects and fundraisers we organize or participate in to serve the Pullman community and to raise money to support our local youth. We always welcome donations for our service projects!
Mary's Park – Playground equipment for a new ADA accessible Pullman park, the first in the region for kids of all abilities
Stuff the Bus – K-12 school supplies drive
Pancake Breakfast & Community Music Fest
"Gently Used" Musical Instruments Drive to increase youth music opportunities
Kiwanis Performing Arts Prize – for an outstanding high school senior, new in 2019
Students of the Month – for 6th, 7th and 8th graders at Pullman's Lincoln Middle School – see our Facebook page
Pullman Egg Hunt with Pullman Parks and Recreation
Supporting the Pullman Child Welfare Foodbank
Raising funds for accessible playground at Pullman's new Mary's Park 

Community Service Recognition Award
Past Fundraisers & Service
Golf Tournament
Kiwanis Yard Sale
Kiwanis Park
Support of Pullman Child Welfare Holiday Food Baskets
We support the ELIMINATE project.