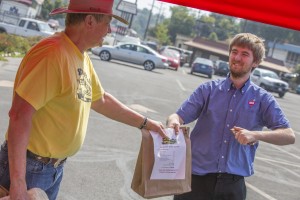 The Pullman Kiwanis organizes and participates in a number of projects and fundraisers to serve the Pullman community, and to raise money to support our local youth. We always welcome donations for our service projects!
Stuff the Bus – K-12 school supplies drive
"Gently Used" Musical Instruments Drive – gathering donated instruments to increase youth music opportunities
Pancake Breakfast & Music Fest – an annual community tradition for the holidays
Kiwanis Performing Arts Prize – given to an outstanding high school senior involved with the arts
Students of the Month – for 6th, 7th and 8th graders at Pullman's Lincoln Middle School – see our Facebook page for recipients
Community Service Recognition Award – annual award to recognize volunteers and people who give back to Pullman
Stream cleanup – keeping a section of Pullman's waterway clear of trash
Mary's Park – playground equipment for the ADA-accessible Pullman park, the first in the region for kids of all abilities
Pullman Egg Hunt – a fun spring event coordinated with Pullman Parks and Recreation
WSU Football Parking – fundraising by assisting the Cougar Athletic Fund with parking at football games
Pullman Kiwanis Club provides funding support for:
Pullman Child Welfare Food bank
Pullman Schools Food Pantry Program
Past Fundraisers & Service
Golf Tournament
Kiwanis Yard Sale
Kiwanis Park
Support of Pullman Child Welfare Holiday Food Baskets
We support the Kiwanis International ELIMINATE project.