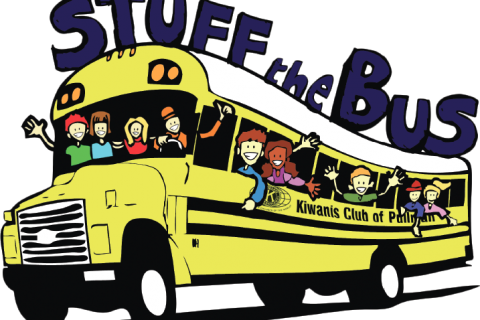 THANKS TO ALL WHO HELPED!
14th Annual Stuff the Bus
School Supplies Drive for Local Kids
August 11-13, 2022
Join the Kiwanis Club of Pullman and Kiwanis Club of Moscow—along with the Pullman, Colfax and Colton/Uniontown School Districts in Washington and the Moscow School District in Idaho—as we gather school supplies for kids who need them most.
Everyone can help!!
Pullman hours and locations
Aug. 11: 2-5 p.m. (Safeway)
Aug 12: 10 a.m. – 5 p.m. (Safeway)
Aug. 13: 10 a.m. – 3 pm. (Safeway)
Please note: the new location for the bus in Pullman will be at Safeway on Bishop Boulevard.
Dropoff locations for supplies, Aug. 8-13: WSECU Pullman branches, Neill Public Library, P1FCU (Walmart)
We will also collect gently used musical instruments at the school bus at Safeway and donate them to the Pullman schools.
Colfax hours and location
Aug. 12: 10 a.m. – 4 p.m. at Rosauer's
Dropoff: Whitman County Library, Aug. 8-13 during business hours
Moscow hours and location
Aug. 11: 2-5 p.m. at Staples (near Palouse Empire Mall)
Aug 12: 10 a.m. – 5 p.m. at Staples
Aug. 13: 10 a.m. – 4 pm. at Staples
You can still donate by sending a check to Pullman Kiwanis, P.O. Box 716, Pullman, WA 99163, or by donating via PayPal below. Monetary donations pay for more school supplies.
A huge thank you to Dissmore's IGA for many years of support—since the beginning of Stuff the Bus. They let us park a school bus in their parking lot and offered pre-filled bags of supplies that people could purchase at a discount and then donate. The Pullman Kiwanis really appreciates their support! Dissmore's was recognized at this year's Kick Off Ceremony!

---
Volunteer to help with Stuff the Bus in Pullman: Aug. 11-13
Volunteer for Stuff the Bus in Colfax: Aug. 12
---
Thank you for making 2022 Stuff the Bus drive a huge win for local kids! [As of Sept. 10, 2022)

Platinum Partners
Furniture Center
Inland Northwest Broadcasting
Gary and Trudy Libey
NRS, Northwest River Supplies
Pullman Child Welfare
Pullman Radio
Schweitzer Engineering Laboratories
Washington State Employees Credit Union
Gold Partners
Banner Bank, Moscow
Emmanuel Baptist Church
Howard Hughes Appliance
ICCU – Idaho Central Credit Union
Mayor Glenn & Kathy Johnson
Courtyard by Marriott & Residence Inn by Marriott
Barbara Petura
Pullman Lions Club
Rolling Hills Eye Care
Rotary Club of Moscow
Troy Insurance Agency, Moscow
Whitman County Association of Realtors
Silver Partners
Suzanne Aaron
Alturas Analytics
Coldwell Banker Tomlinson
William Edwards
Latah County Title, Moscow
P1FCU, Moscow
Monica Peters
Pickard Orthodontics
Pullman Grocery Outlet
Pullman Police Officers Guild
Mary Schweitzer
Short's Funeral Chapel
Bronze Partners
Carolyn Allan
Allegra Printing,  Moscow
Anita's Rentals
Birch and Barley
Karl and Mary Ann Boehmke
Matt and Linda Carey
Colfax Eagles 2317
Columbia Bank
Jill & Raymond Dacey
Elisa Edmonds, State Farm Ins., Moscow
Fairview Village
Denise Gannon
Bettina Gilbert
Highland Property Management
BettyJo Hilliard
IMBSLaw
J&H Printing
Edward Jones – Greg Bloom
Nancy Kirchmeier
Jamie Knudson, State Farm Ins., Moscow
Latah Credit Union, Moscow
Scott Miner, CPA
Diana Moss
Myers Auto Rebuild / Towing
Nature's Way Dentistry
Pets Are People Too, Moscow
Pullman Disposal Service
Steve and Jeanne Schulte
Stuart and Susan Scott
John and Debbie Sherman
Judy Sobeloff
Jan Stewart
Heidi Supkis
SYG Nursery & Landscaping
Martin & Julia Trail
Thomas and Silvia Twilligear
Thank you for your support!!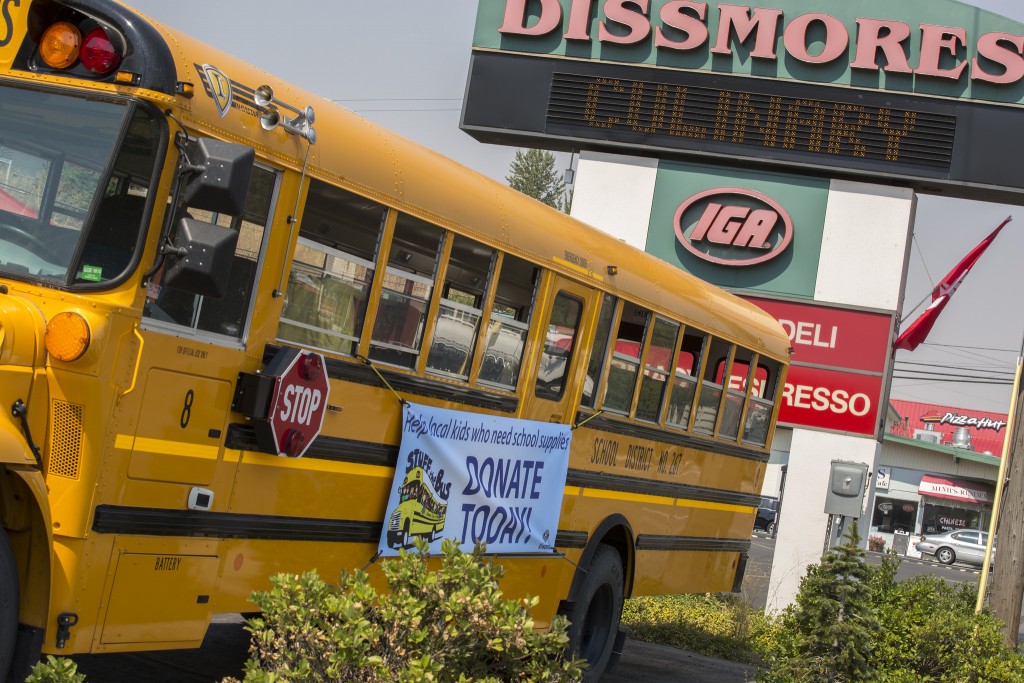 ---
Read about past Stuff the Bus drives
---