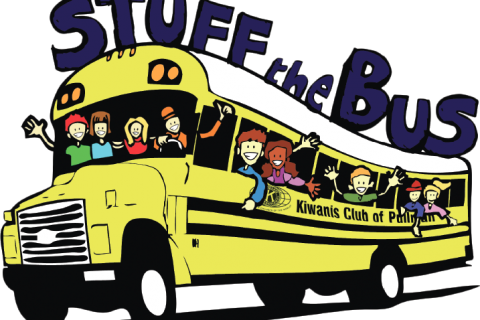 13th Annual Stuff the Bus School Supplies Drive for Local Kids
Big success again this year! Thank you!
August 12-14, 2021
Kiwanis Club of Pullman and Kiwanis Club of Moscow—with the Pullman, Colfax and Colton/Uniontown School Districts in Washington and the Moscow School District in Idaho—thank all of the community members and generous sponsors who give to the Stuff the Bus drive every year!
This year, we purchased 7,775 items with monetary donations. With the donations from the bus, the Pullman Kiwanis donated over 10,000 items! That is enough to supply 700 Pullman students with the full list of required school supplies. In addition, we donated to Colton and Colfax to help an estimated 200 students.
We also collected gently used musical instruments at the school bus at Dissmore's IGA and donated them to the Pullman schools.
You can donate by sending a check to Pullman Kiwanis, P.O. Box 716, Pullman, WA 99163, or by donating via PayPal online below. Monetary donations pay for more school supplies.
---
A warm thank you to all the individuals, businesses and organizations that team up to make Stuff the Bus a big success each year! Your generosity makes a huge difference for kids, their families, and the schools.
2021 Stuff the Bus Donors from Pullman and Moscow (As of September 21, 2021)

Platinum Partners
Furniture Center
Gary and Trudy Libey
Inland Northwest Radio
NRS – – Northwest River Supplies
Pullman Child Welfare
Pullman Radio
Schweitzer Engineering Laboratories
Gold Partners
Banner Bank, Moscow
Dissmore's/IGA
Emmanuel Baptist Church
Anna Grindeland
Howard Hughes Appliances
Mayor Glenn & Kathy Johnson
Kindred at Home
Bob Maxwell
Moscow Pullman Building Supply
Barbara Petura
Pullman Lions Club
Rolling Hills Eye Care
Rotary Club of Moscow
Staples
Silver Partners
Alturas Analytics
Dave Christy State Farm Insurance
Gritman Medical Center
Latah County Title Co.
Monica Peters
Pickard Orthodontics
P1FCU – Financial Credit Union
Pullman Police Officer Guild
Karen Scheer
Mary Schweitzer
Short's Funeral Chapel
Washington Trust Bank
Bronze Partners
Carolyn Allan
Allegra
Birch and Barley
Karl and Mary Ann Boehmke
Dawn Butler
Matt and Linda Carey
John Chapman
Columbia Bank
Culligan Water
Jill and Ray Dacey
Denise L. Gannon
Gropp LLC
Colleen Harvey
Highland Property Management
IMBSLaw
J&H Printing
Edward Jones – Greg Bloom
Edward Jones – Carolyn Hicklin
Kimball Funeral Home
Nancy Kirchmeier
Jamie Knudson Agency, State Farm
Latah Credit Union
Mike Lowery CPA
Mann & Stanke, CPAs
Scott Miner, CPA
Myers Auto Rebuild & Towing
Nature's Way Dentistry
Lorena O'English
Pets are People Too
ProFormance Physical Therapy
Pullman Grocery Outlet
Tracy Ruhs
Debbie Jo Sherman
Sid's Pharmacy
Spence Hardware & Supply
Jan Stewart
Superior Floors
SYG Nursery $ Landscaping
Tom & JoAnn Trail
Tomas Twilligear
Via Family Chiropractic
Marlys Wilson
Ray and Pat Wright
Yia Yia Nikki's
Greg and Tina Zweigle
-o0o-
2020 Stuff the Bus Donors from Pullman and Moscow
Thank you all, so very much!!
> Scott Adams
> Dominic Alessio
> Carolyn Allan
> Allegra Printing
> John Anderson
> Anita's Rentals
> Anonymous Donor
> William & Cheryl Ardrey
> Banner Bank
> Marilyn Bender
> Joni Bennett
> Stephanie Blundelz
> Gene & Janet Bobeck
> Mary Ann and Karl Boehmke
> Helen Boisen
> Steve Brothers
> Elaine/Richard Broyles
> Dylan Bugden
> Alton/Janet Campbell
> Laurie Caraher
> Matt and Linda Carey
> Cheetah Electric
> Dave Christy State Farm Insurance
> Earlene Clark Trust
> Ken/Laura Lee Clark
> Larry Clark
> Greg & Virginia Colvig
> Cougar Land Motel
> Susan Daniels
> Lois Daleo
> Lynda Darnell
> Louise Davison
> Norma Day
> Elizabeth DeWeese
> Emi Dickins
> Dissmore's/IGA
> Ginger Druffel
> Frank Dugan
> Jill Elbracht
> Emmanual Baptist Church
> Barb Farrell
> Brian Fearn
> First Presbyterian Church of Moscow
> Barbara/Ron Flathers
> Janelle Focht
> Lawrence Fox
> Ruth Funabiki
> Furniture Center in Moscow
> Denise Gannon
> Charlene Gustafson
> Hahn's Rental
> Susan Hardy-Gormsen
> Tom and Jeri Harris
> Robert and Colleen Harvey
> Jane F. Heidsick
> Highland Property Management
> Hilliard's Heating and Plumbing
> Sharon Hindman
> Kay Hudson
> Janet Hume
> Idaho Central Credit Union
> Rosalind Iiams and Rick Nolting
> Ruth Inhat
> Inland Northwest Broadcasting
> Malinda Jenkins
> Major Glenn & Kathy Johnson
> J. W. Johnston
> Edward Jones – Greg Bloom
> Jenna Kincaid
> Dale/Carolyn Knowles
> Kristi Kurle
> La Casa Lopez
> Latah Credit Union
> Kay Leberman
> Mary Loski-Cole
> Bob and Adrienne Maxwell
> Mann & Stanke, CPAs
> Kelly McGovern
> Judy Meuth
> Laura Miller
> Charlotte Mohan
> Myers Auto Rebuild/Towing
> Kelly Myott-Baker
> Deepika Naidu
> Yuriy Napelenok
> Faye Neill
> Soren M. Newman
> NRS – Northwest River Supplies
> Lorena O'English
> Jennifer/John O'Laughlin
> Monica Peters
> Pets are People Too
> Frances Pettit
> Barbara Petura
> Kathryn/Bruce Pitman
> P1FCU – Potlatch #1 Financial Credit Union
> Becky Priebe
> Pullman Child Welfare
> Pullman Chiropractic Clinic, PLLC
> Pullman Heating and Electric
> Pullman Lions Club
> Pullman Police Officer Guild
> Pullman Radio
> Rainshadow Research / Matthew Root
> Rakuten Marketing
> Mary Ramirez
> Karin Raus
> Stephanie Roberts
> Melissa Rockwood
> Rolling Hills Eyecare
> Rotary Club of Moscow
> Tracy Ruhs
> Wm. H. Sadowski
> H. A. 'Anne' Salisbury
> Barbara Sanborn
> Alisa Savoy
> Karen Scheer
> Amelie Schmolke
> Kirk and Noel Schulz
> Mary Schweitzer
> Schweitzer Engineering Laboratories
> Sharon & Michael Scott
> David Seamans
> Paul and Alice Schroeder
> Michael Scott
> Debbie Jo Sherman
> Short's Funeral Chapel
> Jane Sielken
> Elizabeth Siler
> Sheri Kay Six
> Bill Skavdahl
> Bobbie Skinner
> Spence Hardware & Supply
> Debra Spidel
> Staples
> Janice Stewart
> Ann Summerson
> Superior Floors
> SYG Nursery & Landscaping, Inc.
> Edie Talbot
> Matt/Karen Telin
> Wanda Terry
> Martin & Julia Trail
> Tom & Jo Ann Trail
> Amy Tull
> Libby Walker
> Washington State Employees Credit Union
> Kathy Weber
> Anna Wildes
> Gary Williams/Joy Passanantez
> Wil Ru Apartments
> Anita Young
> Laura Zeller
> Greg and Tina Zweigle
> Plus many dozens of donors who bought pre-packaged bags of school supplies at Dissmore's in Pullman and Staples in Moscow.
Thank you again to all of you who care about our kids!!
~ Kathy Cooper and Ginger Flynn, Stuff the Bus Co-chairs, Members of the Kiwanis Club of Pullman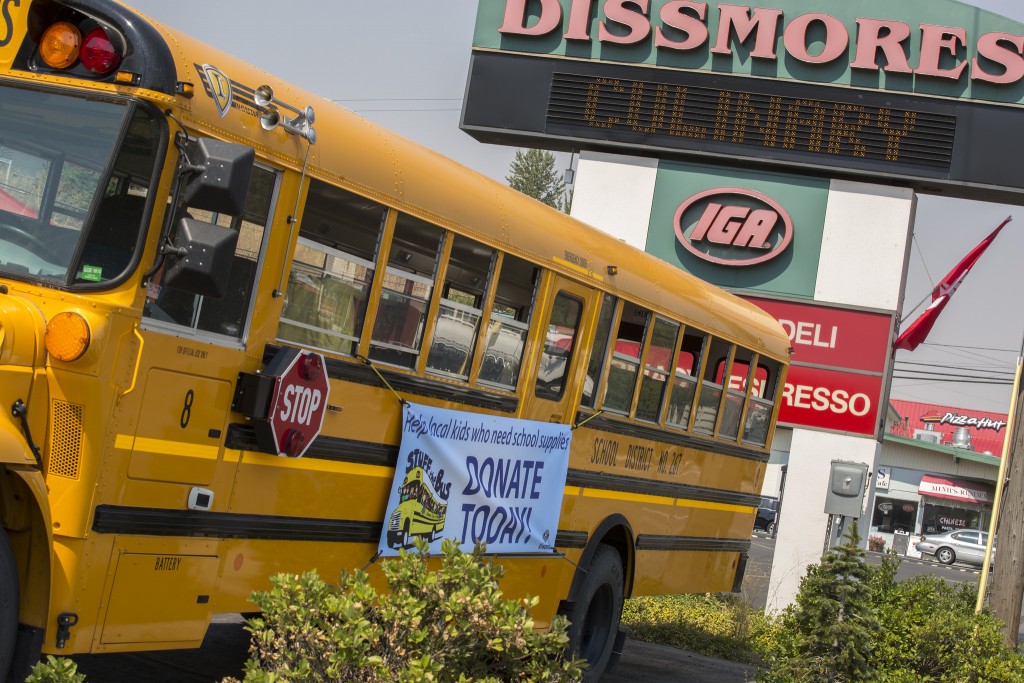 Thank you, Dissmore's, for allowing us to park a school bus in your parking lot and for your support through pre-filled bags of supplies your patrons can purchase at a discount and then donate. Much appreciated!
---