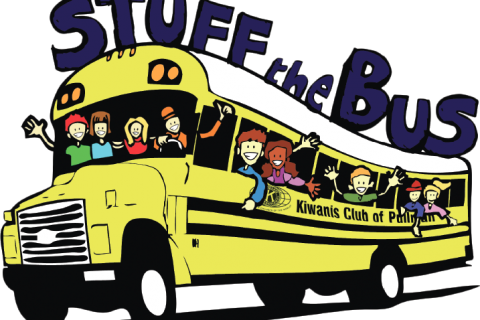 Give this week!!

11th Annual Stuff the Bus School Supplies Drive for Local Kids
August 8, 9, & 10, 2019
Everyone can help!! | SCROLL DOWN to see 2019 Sponsors.

Kiwanis Club of Pullman and Kiwanis Club of Moscow—with the Pullman, Colfax and Colton/Uniontown School Districts in Washington and the Moscow School District in Idaho—thank all of the community members and generous sponsors who give to the Stuff the Bus drive every year! Last year we got needed school supplies to more than 2,000 local kids. This year, our 11th school supplies drive, we want to help even more kids, and ask for your help.
Watch for the 2019 requested school supplies list to see what to donate at the bus — or go to Dissmore's the week of the drive to purchase pre-packed bags of supplies with their generous discount.
We also gather musical instruments for Pullman bands as part of our Gently Used Musical Instrument Drive during Stuff the Bus.You can drop these off the bus.
THANK YOU TO ALL OUR DONORS, PARTNERS & VOLUNTEERS in 2019!!
SEE PICTURES on > Pullman Kiwanis FACEBOOK <
A warm thank you to all the individuals, businesses and organizations that team up to make Stuff the Bus a big success each year!
~ Kathy Cooper and Ginger Flynn, Stuff the Bus Co-chairs, Members of the Kiwanis Club of Pullman
2019 STUFF THE BUS DROP-OFF LOCATIONS
PULLMAN, WA
School bus at Dissmore's on North Grand
– Thursday, Aug. 8 – 2-5 pm
– Friday, Aug. 9 – 10 am – 5 pm
– Saturday, Aug. 10 – 10 am – 4 pm
>> Drop-off boxes throughout STB week during open hours at WSECU branches on Bishop Boulevard and in WSU CUB; Neill Public Library

MOSCOW, ID
School bus at Staples at the Palouse Empire Mall
– Thursday, Aug. 9 – 2-5 pm
– Friday, Aug. 9 – 10 am – 5 pm
– Saturday, Aug. 10 – 10 am – 4 pm
No other drop off locations in 2019

COLFAX, WA
School bus
– Friday, Aug. 9 – 11 a.m.-6 p.m.
– Saturday, Aug. 10 – 10 a.m.-2 p.m.
No other drop off locations in 2019
COLTON, WA
School bus on the highway
– Saturday, Aug. 10 – 9 am to Noon
Plus boxes during open hours at Colton Post Office, Uniontown Post Office, and Colton Day Care
-o0o-
Thank you to our 2019 Stuff the Bus sponsors in Pullman, Moscow & Colfax! [As of August 7, 2019]
Platinum Partners
Furniture Center & Mattress
Inland Northwest Broadcasting
Judge Gary and Trudy Libey
Northwest River Supplies
Pullman Radio / KQQQ
Schweitzer Engineering Laboratories
Washington State Employees Credit Union
Gold Partners
Banner Bank (Moscow)
Clearview Eye Clinic
Dissmore's/IGA
Fiegel Chiropractic
Helene's Property Place LLC
Mayor Glenn and Kathy Johnson
Barbara & Richard Petura
Pickard Orthodontics
Staples

Silver Partners
Alturas Analytics
Dave Christy State Farm Insurance
Happy Day Restaurants/Arby's
Latah Credit Union
Moscow Rotary Club
P1FCU (Pullman)
R.B. Cattle/Janie Nirk (Potlatch)
Short's Funeral Chapel
Zeppoz
Bronze Partners
Allegra Marketing & Printing (Moscow)
Anita's Rentals
Carrie Bitterwolf
Coldwell Banker Tomlinson
Culligan Water LLC
Gropp LLC
Hahn Rental Center
Highland Property Management
Hilliard's Heating & Plumbing
Irwin, Myklebust, Savage and Brown
Jamie Knudson, State Farm (Moscow)
Myers Auto Rebuild & Towing
Nature's Way Dentistry
One World Café
Palouse Pediatrics
Stanke, Mann & Miner, CPAs
Superior Floors
Martin & Julia Trail
Kathy Weber, Inc.
Wil Ru Apartments

-o0o-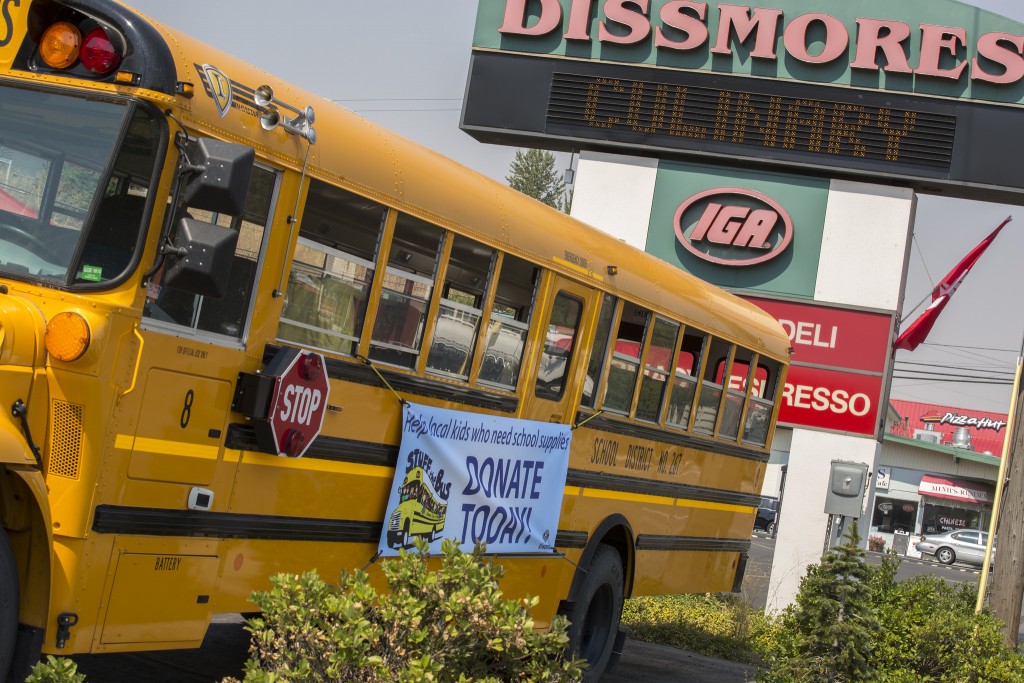 Thank you, Dissmore's, for allowing us to park a school bus in your parking lot for drop off of school supplies —  and for your support through pre-filled bags of supplies your patrons can purchase at a discount and then donate. Appreciated!
---
Thank you to our 2018 Stuff the Bus sponsors in Pullman, Moscow & Colfax! [As of August 26, 2018]
Platinum Partners
Furniture Center & Mattress
Inland Northwest Broadcasting
Gary Libey
NRS (Northwest River Supplies)
Pullman Child Welfare
Pullman Radio / KQQQ
Schweitzer Engineering Laboratories
Washington State Employees Credit Union
Gold Partners
Banner Bank (Moscow)
Banyans at the Ridge
Dissmore's/IGA
Emmanuel Baptist Church
Tom and Jeri Harris
Mayor Glenn and Kathy Johnson
Pacific Northwest Farmers Cooperative
Pickard Orthodontics, Pullman and Moscow
Pullman Lions Club
Real Life on the Palouse
RE/MAX Home and Land
Rolling Hills Eye Care
Short's Funeral Chapel
Staples
Wells Fargo Bank
Silver Partners
Jack and Betty Jo Hilliard
Holiday Inn Express
Gary Jenkins
Latah Credit Union
P1FCU
Barbara and Richard Petura
Pullman Disposal
Pullman Police Officers Guild
Rotary Club of Moscow
Kirk and Noel Schulz
Bronze Partners
Allegra Marketing & Printing (Moscow)
Carolyn Allen
Anita's Rentals
Aspen Park of Cascadia
MaryAnn and Karl Boehmke
Culligan Water LLC
Dave Christy State Farm Insurance
Jan Fluter
Hahn Rental Center
Highland Property Management|
Inland Networks (Inland Telephone Company)
Edward Jones – Greg Bloom
Mann & Stanke
Don McCool
Myers Auto Rebuild & Towing
Nature's Way Dentistry
Janie Nirk, R. B. Cattle, Potlatch
Monica Peters
Pets Are People, Too
Karen Scheer
Les Schwab Tire Center
Rosauers (Colfax)
Janice Stewart
Superior Floors
SYG Nursery and Landscaping
Beatrice Taylor
Sandra Woodrow
-o0o-
Thank you to our 2017 Stuff the Bus sponsors in Pullman, Moscow & Colfax! [As of August 22, 2017]
Platinum Partners
Furniture Center & Mattress
Tom and Jeri Harris
Laura Hoopis
Inland Northwest Broadcasting
Gary and Trudy Libey
Northwest River Supplies
Pullman Child Welfare
Pullman Radio / KQQQ
Schweitzer Engineering Laboratories
Washington State Employees Credit Union
Gold Partners
Banner Bank
Dissmore's/IGA
Emmanuel Baptist Church
Gladish Community & Cultural Center
Holiday Inn Express
Glenn Johnson, Mayor
Pacific Northwest Farmers Cooperative
Pullman Lions Club
Rotary Club of Moscow
Real Life Ministries on the Palouse
Staples

Silver Partners
Dave Christy State Farm Insurance
J & H Printing
Life Flight Network LLC
Moscow Pullman Daily News
P1FCU
Barbara and Richard Petura
Pullman Disposal
Pullman Police Officers Guild
Bronze Partners
Allegra Print and Imaging
Carolyn Allen
MaryAnn and Karl Boehmke
The Colfax Eagles
Culligan Water LLC
Feuerstein Group, Waddell & Reed
Fujiyama Pullman
Barbara Gupta
Highland Property Management
Hilliard's Heating & Plumbing
Inland Telephone Company
Irwin, Myklebust, Savage and Brown
Latah Credit Union
Tammy Lewis, Realtor – Team Washington Real Estate
Mike Lowrey CPA
Mann & Stanke
Myers Auto Rebuild & Towing
Nature's Way Dentistry
PEO Chapter FZ
Monica Peters
Pro Cab LLC
Pullman Firefighters Local 1892
John Ramirez
Regency Pullman
Noel Schulz
Les Schwab Tire Center
Janice Stewart
Superior Floors
SYG Nursery and Landscaping
Washington Trust Bank